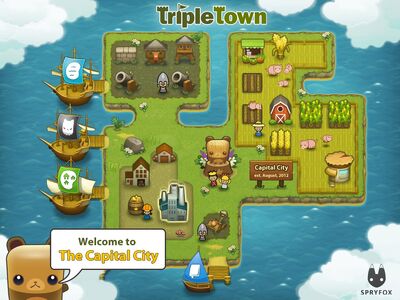 The 
Capital City
is the main hub of the game which was added in a 2012 update.  This is where you can choose between 5 different maps at a time.  This is also where you can build the 3 types of building paths. (
Military
,
Industry
, and
Farming
)  These give you rewards which can be used in the game, either for your settlement or
Capital City
.  It is persistent between maps.  You can also place Decorative Items here, including the
Grandfather Clock
which gives you unlimited
Turns
.  This particular
Item
costs 90
Diamonds
.  You can't remove anything from the
Capital City
without using a
Crane
.
Ad blocker interference detected!
Wikia is a free-to-use site that makes money from advertising. We have a modified experience for viewers using ad blockers

Wikia is not accessible if you've made further modifications. Remove the custom ad blocker rule(s) and the page will load as expected.